KEY PUBLICATIONS
Sherwood W (2021) (Ed.) Perspectives on the Vona du Toit Model of Creative Ability: practice, theory and philosophy. Watford, International Creative Ability Network.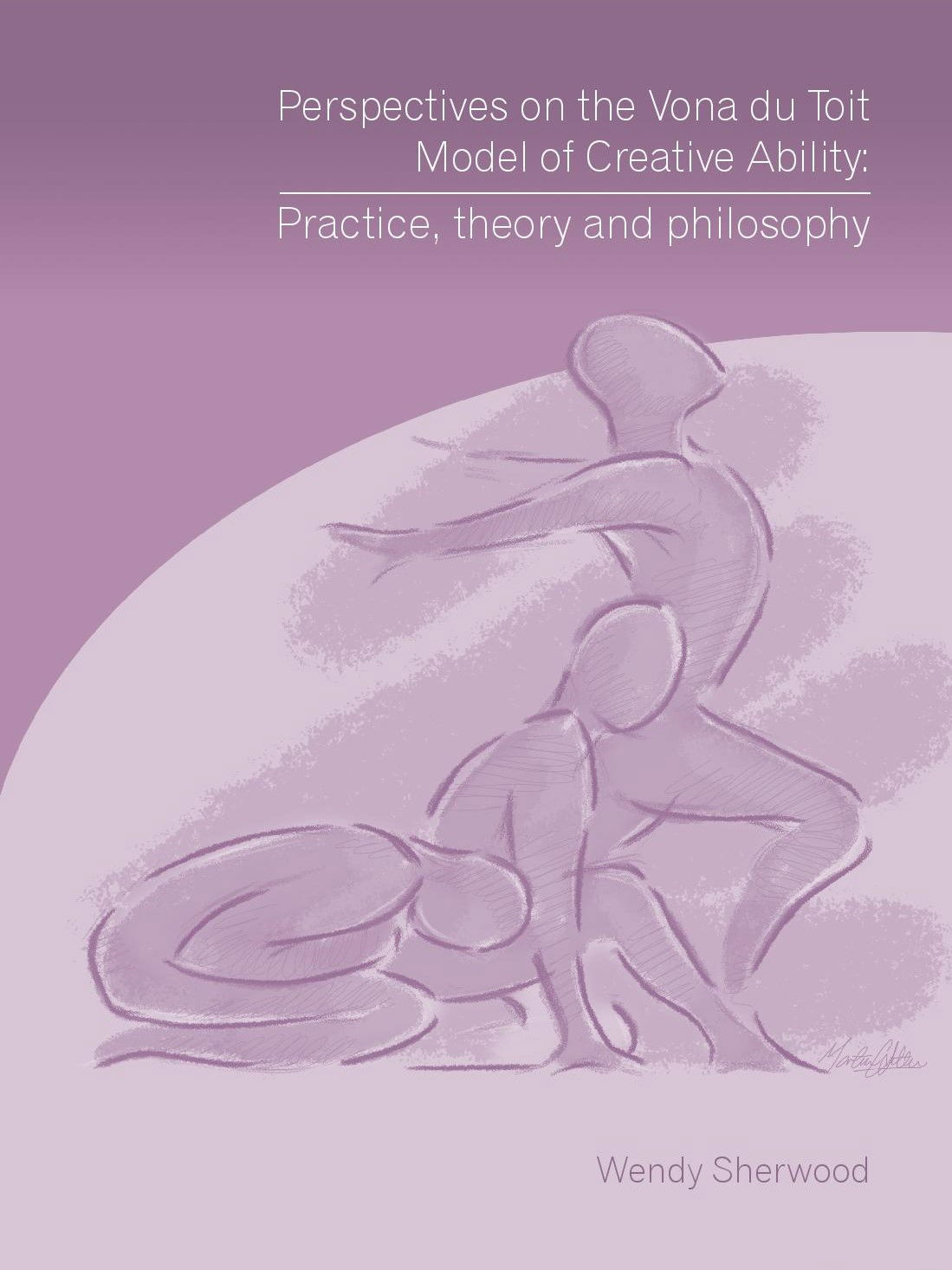 This 2021 text is the first to provide detailed information and case examples of the application of the VdTMoCA to address the physical, mental and spiritual health and well-being of individuals in a broad range of contexts. These include stroke rehabilitation, dementia care (multi-sensory stimulation programme), low and high secure forensic services, seclusion, rehabilitation for people with complex needs (mental health), and a case example relating sense of self, sensory processing and volition for a person with a traumatic brain injury. Additionally, there is a chapter on combining sensory integration theory and the theory of creative ability to facilitate growth, and two chapters explore and make the case for understanding and facilitating growth of the spirit component of people, arguing for a change in the conceptualisation of the highest level of creative ability. Bringing the interrelatedness of mind, body, spirit together, a thought-provoking chapter explores the source of human creative ability and the effect pathology, impairments, injury and disorders have on the process of creative ability, with particular reference to schizophrenia, traumatic head injury, learning disabilities, substance abuse and pain.
Several chapters provide detailed accounts of how individual and teams of occupational therapists approached the task of embedding the VdTMoCA to transform and improve their services, providing resources as Appendices for the reader to utilise.
In total, there are seven case examples to illustrate VdTMoCA informed occupational therapy, including how it can guide other disciplines for working therapeutically with individuals. Cases are also drawn upon in a discussion of some of the core philosophical and theoretical assumptions of the VdTMoCA, bringing their inseparable relationship with practice alive to deepen the reader's understanding of this valuable occupational therapy practice model.
Available on the BOOKS page.
Preview of the text including contents page and excerpts of some chapters is available in this download BOOK - Perspectives on the VdTMoCA preview for launch.pdf
Purchases in South Africa - BOOK - Perspectives on the VdTMoCA flyer South Africa.pdf
Purchases in Australia - BOOK - Perspectives on the VdTMoCA preview for Australia.pdf
---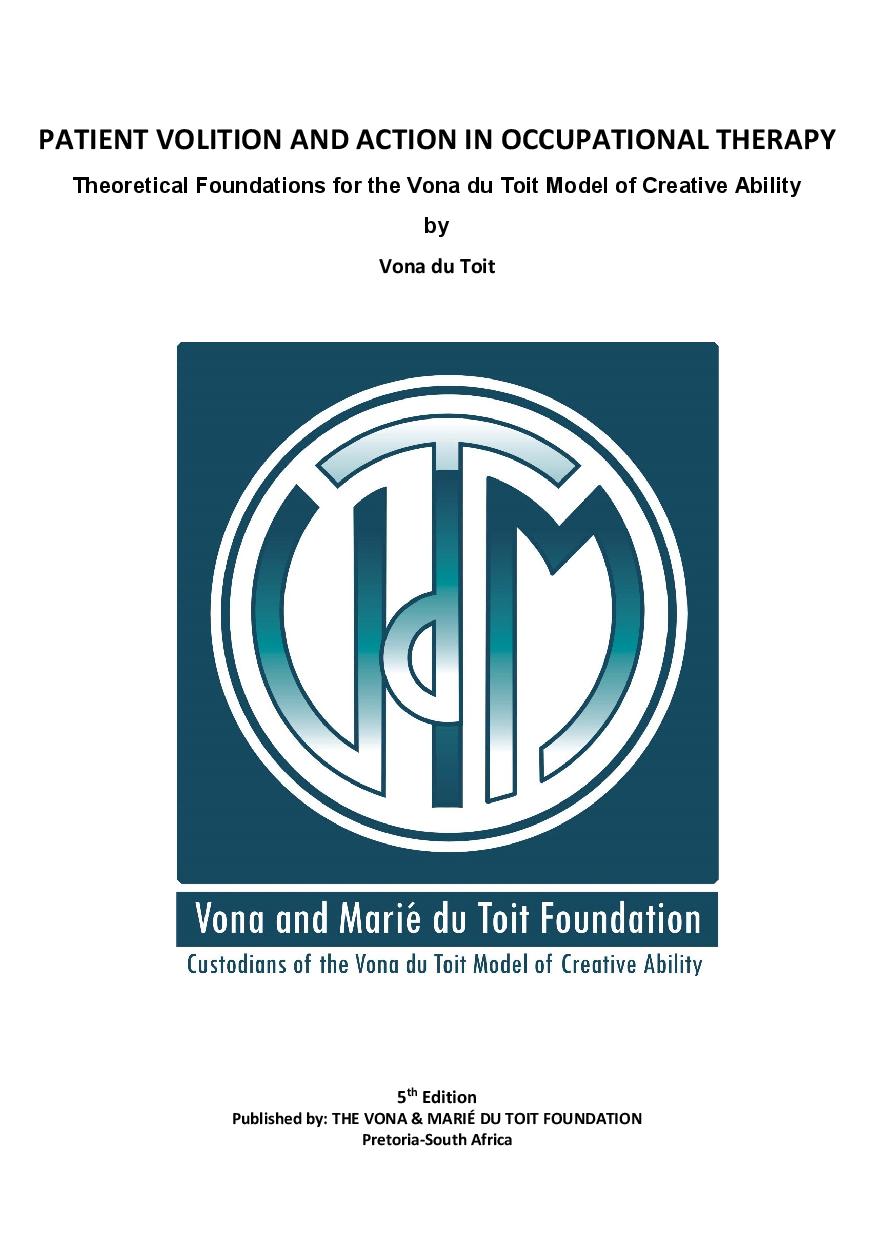 This is an invaluable little book, containing original 1960s and 1970s papers and presentations by Vona du Toit, plus insights by Pieta Compaan on the experience of recovery through levels of creative ability following a spinal injury.
Vona's original paper on initiative really sets out the philosophical underpinnings of the model, and explains fundamental beliefs about each individual's responsibility for who we become (and recover to be), and the role and responsibilities of the occupational therapist.
The numerous conference papers by Vona du Toit provide valuable information about creative ability, particularly those related to specific client groups. Hence, papers in this book are frequently referred to and quoted in Perspectives on the Vona du Toit Model of Creative Ability: practice, theory and philosophy (Sherwood, 2021) and is therefore an enlightening companion to that text. This book may be small in size but is huge in terms of theory and guidance for the occupational therapy profession.
Although the book cover suggests this book is by Vona du Toit, it is a collection of papers edited by, and therefore referenced as Du Plessis et al (2009), which is the 4th Edition. The cover indicates that this is the 5th edition but it is a 2015 reprint with a minor amendment rather than a new edition.
Important information: This book is printed by Graphic Design & Print, Norfolk, UK, chosen because it trades for social return. As a Community Interest Company 100% of profits are used on social aims and objectives. These are to help people from severely disadvantaged backgrounds including people in contact with mental health services and learning disabilities. During 2020 this was extended to include vulnerable people in the community through isolation including those requiring practical help to shield.
The cost of printing of this text is higher than many other printers, however the benefits to communities and our society far outweighs this. Please bear this in mind when comparing the price with other suppliers. When you buy this text you benefit someone other than yourself and I am proud of this fact and to support Graphic Design & Print. Dr Wendy Sherwood.
Available from this website -see BOOKS tab
---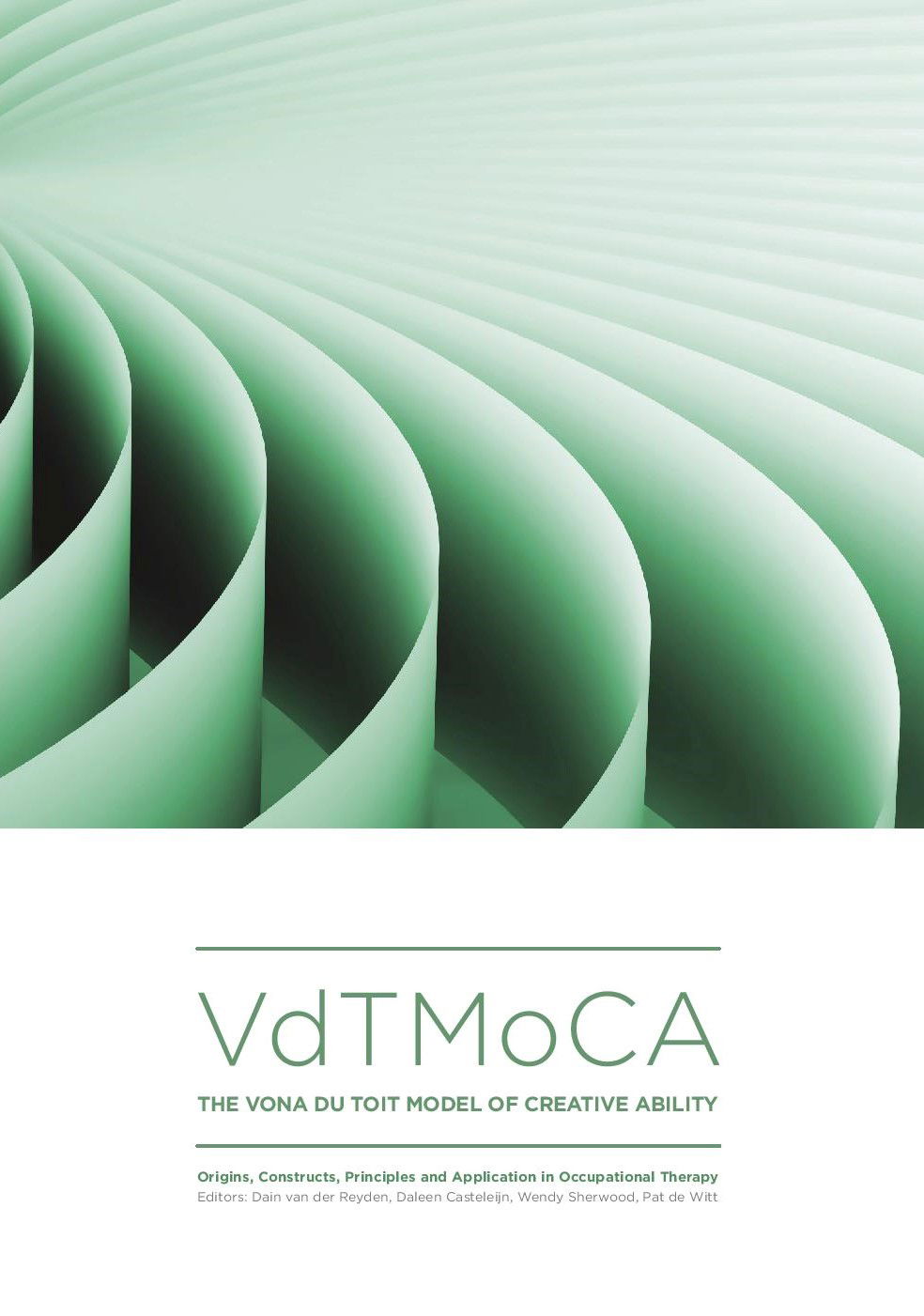 Van der Reyden D, Casteleijn D, Sherwood W, de Witt P (2019) (Eds.) The Vona du Toit Model of Creative Ability: Origins, Constructs, Principles and Application in Occupational Therapy. Vona & Marie du Toit Foundation, Pretoria, South Africa
Available at: https://www.vdtmocaf-uk.com/shop-categories/books
---
CHAPTERS IN TEXTS:
Walters JH, Sherwood W, Mason H (2014) Creative activities, in W Bryant, J Fieldhouse (2014) Creek's occupational therapy and mental health. 5th edition. Oxford: Churchill Livingston.
Creative ability is featured in this useful chapter, including a brief case example.
---
Hosier B, O'Connell J, Tebbutt L (2011) Occupational Therapy Input for Adolescents with Developmental Disabilities in Secure Settings, IN E Gralton (2011) (Ed) Forensic issues in Adolescents with Developmental Disabilities. London: Jessica Kingsley.
A useful chapter that illustrates how the VdTMoCA can be used with the Model of Human Occupation.
---
Van Heerden C (2008) Vocational Rehabilitation in the UK, In: McKay EA, Craik C, Lim KH and Richards G (Eds) (2008) Advancing Occupational Therapy in Mental Health Practice. Oxford: Blackwell Publishing.
The Ryan et al chapter on the Creative Participation Assessment. This chapter as it was originally published in the book Assessments in Occupational Therapy Mental Health: An Integrative Approach, 4th edition, contained a lot of inaccuracies about the assessment attached to the VdTMoCA. Dr Daleen Castelijn and Dr Wendy Sherwood asked for a revision of the chapter and inputted to improve it as much as it was possible to. The updated chapter is freely downloadable from https://www.slackbooks.com/assessments-in-occupational-therapy-mental-health-an-integrative-approach-fourth-edition/
See underneath the image of the book - Chapter 8.
Although the chapter has been improved, I still recommend that you refer to the full text on the VdTMoCA for the chapter on assessment in order to gain the best quality information.
---
OT News articles
Download list. ICAN list of OT News articles on the VdTMoCA Jan 2023.pdf
---
OTHER RESOURCES
Creating the evidence research priorities 2015 VdTMoCA Foundation UK.pdf, (VdTMoCA Foundation UK, 2015). Foreword by Jennifer Creek.