There are nine levels of creative ability, the first five of which are commonly seen in health and social care: ICAN Basic overview of 5 levels of creative ability.pdf
---
Online training:
Everything is in one place and easy to access 24-7 from all devices: PC, laptops, tablets, and smartphones
Work at your own pace
Track your progress, start or engage in discussion and send questions to the course facilitator
Access the modules at any time as many times as you want over a 4-week period
Blend of teaching-learning approaches
Collaborative and shared learning opportunities
Narrated modules with examples from practice
Workbook, essential reading, learning exercises, newly revised description of the levels of creative ability and treatment guidance, experiential sessions, quizzes
Course completion certificate
The following are freely available to all course participants:
ICAN list of publications and resources (up-to-date) – Downloadable pdf.
Optional quizzes to test knowledge on theory, assessment, levels of creative ability and treatment/intervention.
Email alerts - ICANcreativity Buzz – brief summaries of VdTMoCA news, events and information to enhance VdTMoCA knowledge.
Mode of course delivery (see specific training courses for downloadable full information on content and pricing)
Training is comprised of a blend of teaching-learning approaches including narrated and read-only power point presentations, hard copy reading material, workbooks, practice-based templates, videos, learning exercises, practical experiential sessions and quizzes. The larger the course, the greater the range of teaching-learning approaches.
All courses include narrated presentations which are particularly appreciated by participants with dyslexia, but valued by all. Many practice-based examples are provided, which are valued for bringing VdTMoCA theory and the levels of creative ability alive.
Online learning courses can be completed within an agreed two-month window unless specified elsewhere in a formal written contract provided ICAN. Learners can revisit modules as many times as they want, 24-7 from the 23rd of one month until the 21st of the following month. Any courses unused will expire and shall be deemed used. On completion of the course (i.e. viewed all module content), each individual learner will receive a CPD certificate and the link to the course will expire.
The eLearning environment allows for easy access to all courses and core learning materials, indicating how many course are to be completed and have been completed.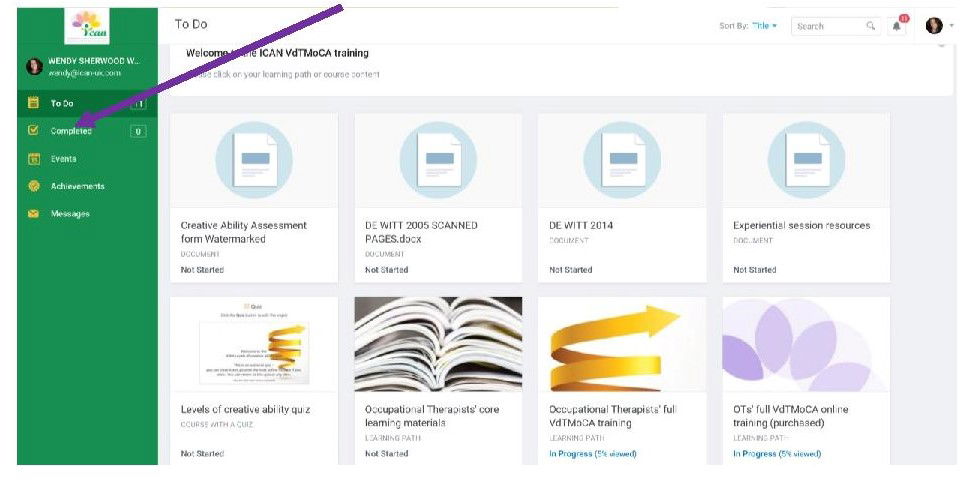 Having selected your course, all modules are listed in the order for completion. There is opportunity to enter into a discussion and ask questions directly to the trainer.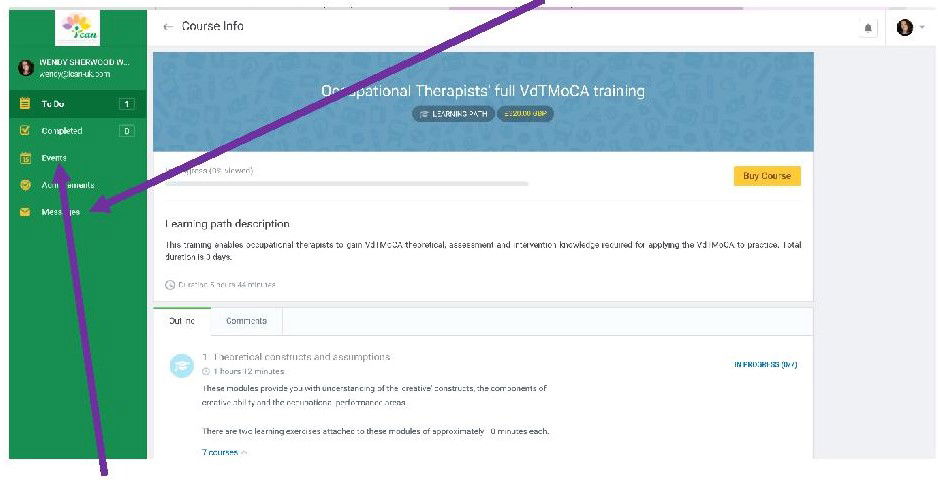 A calendar shows all relevant upcoming events, such as webinars (if part of the course).
Participants can provide direct feedback on course modules in the comments section, enabling trainers to rapidly respond to continually improve courses.
System requirements
The courses do not support Internet Explorer versions 6-10. If you are using any of these versions, please consider switching to Internet Explorer 11 or another browser. It is recommended that you upgrade to the latest versions of Chrome, Firefox, Safari, or Edge.
Many modules are narrated and contain images or video footage, and large in size. Therefore, it is probably best to view modules via a PC internet connection rather than on a mobile phone.
Feedback - See Testimonials page
Cost: £335 per person, or a set fee for training large staff numbers (see below).
Set Fee for 60 staff training in a 12-month period for £3300. Understandably, this option is extremely popular. This option will change on 1 September 2021 to £3300 for 45 staff.
Online VdTMoCA training:
Occupational Therapists' Full VdTMoCA training
VdTMoCA for OT Support Workers – for OT support workers supervised by an occupational therapist.
The VdTMoCA - a model and framework for engaging and enabling patients – 3 places for nurses working in an in-patient/residential service with occupational therapists trained in the VdTMoCA. This is a 3 hour course comprised of short online modules for those requiring a basic understanding and practical examples of application to practice. Suitable for nurses, healthcare assistants and other disciplines working in inpatient settings with occupational therapists who are using the VdTMoCA. To be completed within a 3-day timeframe.
All bookings and information - contact wendy@ican-uk.com